Privacy Policy
Chris James Hypnotic Entertainment Limited will not provide aggregate statistics about our customers to any third party. Chris James Hypnotic Entertainment Limited may release personal information in certain narrow circumstances when we believe, in good faith, that such release is reasonably necessary to (i) comply with law, (ii) enforce or apply the terms of any of our user agreements or (iii) protect the rights, property or safety of Chris James Hypnotic Entertainment Limited our users, or others. Our web site links to other sites that have no official affiliation with Chris James Hypnotic Entertainment Limited We make no representations or warranties with regard to any site that links to or from our site. We suggest that you read the Terms of Use and Privacy Policy of all sites that you visit.
At this time, Chris James Hypnotic Entertainment Limited does not sell, trade, or rent your personal information to others. It is important to remember that persons under the age of 18 are not eligible to subscribe to our email bulletin or provide any personal information. We decline to accept information and will delete any information inadvertently collected from anyone under the age of 18. Anyone may request a copy of the information collected for him or her. with "by sending a email to Chris James Mindreader and Stage Hypnotist with "data request " in the subject line.
Chris has been performing from the age of 12, it became quite a talking point in many school lessons, with many of the teachers requesting me to show them something new each weeK.
During college I took a a side step into Hypnosis and Psychological Techniques became intrigued at its potential in particular as a stage hypnotist. As well as developing the Mind Show, hypnosis became my main interest. Bookings for both shows in holiday centers in the early days allowed me to develop and fine tune performances.
It soon became apparent that the intrigue of the hypnosis show in conjunction with mind reading demonstrations, were the favorite with venues and audiences. The decision was made to further develop both shows into the interactive and captivating shows they are today.
Joining the Federation of Ethical Stage Hypnotists, in the 1994 FESH is an organization restricted in membership to Stage Hypnotists who swear and abide by a strict code of conduct as well as ensuring the ethical traditions are maintained at all times.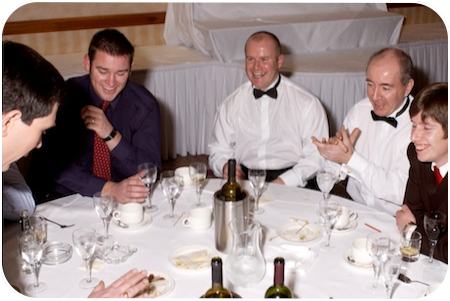 Chris performs a similar kind of hypnotic comedy show and comedy stage hypnosis show as Paul McKenna. His Mind Control and Mysteries of the Mind Show, thanks to the popularity Derren Brown is in demand all over the UK and Europe. Making Chris James one of the UK's favorite Stage Hypnotists and Mind Readers.